About Schröter Amplification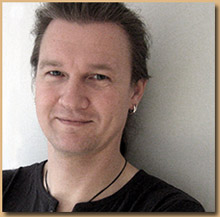 Guitarist meets Radio / TV Master
Bernhard Schröter, born in 1967, completed his examination and became a freelance radio and TV master after his training and 10 years with Grundig in 1996.

In addition, grew up in the parents' radio / television company and guitarist since 1981, he could "always" tune to your heart's content guitar equipment.
2005 saw the founding of the TUBELIT company, under whose banner repairs and tube amplifier modifications are carried out as well as the production of the
Concept & Philosophy

Schröter®Amplification is the result of elaborately hand-made all-tube amps under the motto "arts and crafts for artists"! The full attention is given only to the best possible conditions for sound culture and professional, meaningful equipment - without red pencil for austerity measures.

Just by the fact that not the most modern and cost-effective but original, proven technology and high-quality components are used, these amplifiers differ from industrially manufactured mass-produced goods. Sound and technical structure are characterized by a clear vintage attitude, at no point the signal of semiconductors is touched in any way - nothing is riveted, but everything screwed.

All printing on chassis parts and floorboard, the assembly of all electrical and mechanical components, the assembly of the peripheral boards for channel switching, floorboard and power supply as well as the complete point-to-point wiring of the signal part are carried out personally by the developer. (Here the boss solders himself :-)
Each component is soldered or mounted with the knowledge of its technical task and tonal effect, comparable to a cook who knows exactly how to create a special dish and how much it spices. This surrounds this exception amplifier with a special flair of
quality and sustainability
.
On some
"inner values"
that you can not view the amps without special knowledge from the outside, but they clearly stand out from the crowd and give them an eternal life, is to be made at this point with a few examples:
Various switches, which would be "normal" in a single-channel design, have a double-channel design and thus double resistance to over the years occurring contact resistance at the switch contacts.
The mains socket looks like any other, but is a complex line filter socket to filter out disturbances from the mains and thus keep the operating voltage clean (depending on the model).
The tube power amp enjoys extensive protection against overloading if no speaker is connected to the amp.
All switches, sockets, potentiometers and tube sockets are bolted to the chassis, largely secured against twisting and have virtually no mechanical stress for solder joints.
Most of the components are so oversized that even with possible defects, especially the tubes, they do not immediately throw in the towel, let alone during normal operation ...
... and in case of failure there is also a
lifetime warranty on all amplifier models!
*
All this makes Schröter®Amps true high-end noble-minded Amps for life, where the term "handcrafted" does not just refer to the final assembly!
* excluding wearing parts, tubes, damage caused by improper handling or force majeure, such as surge damage (lightning)