Speaker Cabinets
High-Quality 4x12, 2x12 and 1x12 cabs are available for the Schröter® Amplification heads.
Equipment such as wheels / feet, rear panel, mono / stereo, Tolex colors and above all the speaker layout are not fixed.
Technical specifications such as load capacity, the impedances (mono / stereo), the sound pressure and the weight are therefore completely different.
Which equipment for a cab now makes sense or is technically necessary, will be discussed in each case.
The price of a cab is dependent on its design, especially which speakers are equipped.
1x12er Cabs
The Schröter® S112D
- Shown in Cocoa Cream, with an oval back dumble like, equipped with a Celestion Creamback Speaker
Dimensions: 55 x 51 x 26cm (WxHxD)
Weight: about 14,8kg
A few price examples
- With a Celestion Heritage speaker this box is 725,00 Euro,
- with a Celestion V-Type speaker at 645,00 Euro,
- with a Celestion Creamback G12M-65 speaker at 685,00 Euro.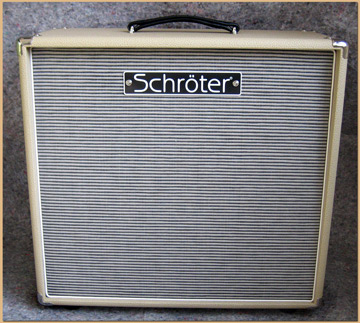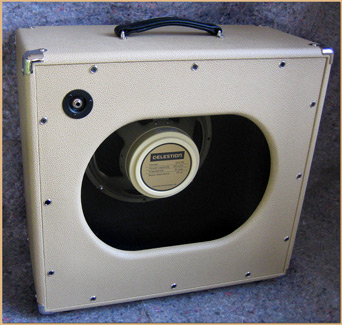 2x12er Cabs
The Schröter® S212V
- shown in Brown and Green
Dimensions: 72 x 46 x 29cm (WxHxD)
Weight about 21kg, with NEO Creambacks about 19kg
A few price examples
- with Celestion V-Type speakers at 755,00 Euro
- with Celestion NEO Creamback speakers at 855,00 Euro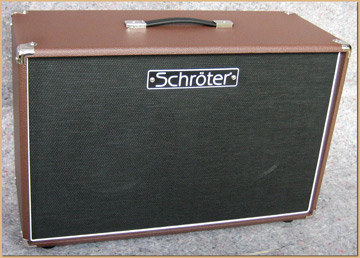 Back is "convertible" (open on picture but lockable)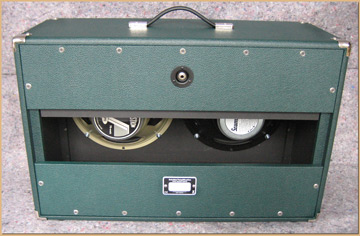 4x12er Cabs
The Schröter® S412A
- here in cream, with fixed, non-pluggable rollers.
The advantage of the fixed rollers is that they are equipped with brakes and thus give the box a more reliable stand. (The rolls could still be easily unscrewed if necessary)
Or rather pluggable roles?
They have the advantage that they can be removed much faster without tools.
If pluggable rollers are used, rubber feet are additionally mounted.
A few price examples for orientation:
-The cab in mono, equipped with Celestion V-Types speakers is
1.095,00 Euro.
-Equipped with Celestion Heritage Greenbacks Made in
England
(G12H / 30W / 75Hz)
1.390,00 Euro.
-Equipped with Celestion NEO Creambacks
1.265,00 Euro, weight: approx. 35kg